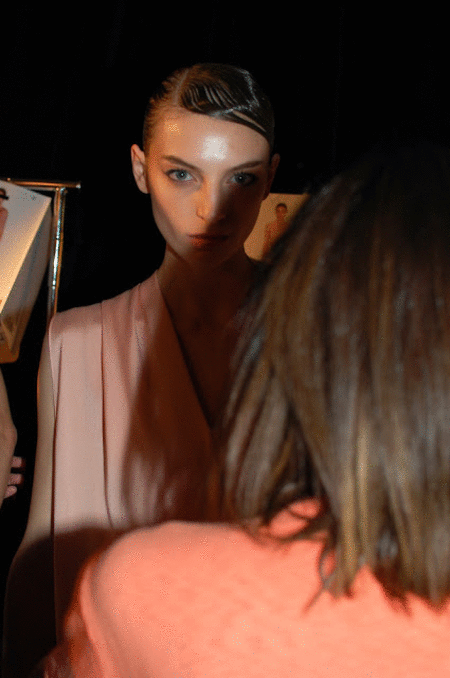 We usually flag the top posts of the previous 12 months on Frockwriter's July 4 birthday each year. This year we opted instead to focus on some of the challenges – and frustrations - of trying to maintain an independent news blog, whilst avoiding getting sucked into the vortex of the blogger gravy train. So here is a list of our top stories for 2012, rated by traffic. The year's number one post, Close encounters of the KL kind – which attracted over 20,000 hits - is incidentally also one of the top posts in this blog's four and a half year history. It's also a story on which we personally received considerable feedback, from people who contacted us to say how much they enjoyed reading it. Not bad for a post that we originally hesitated publishing at all, because of its length and potential TLDR factor – "too long didn't read" being the mantra of many when confronted with longform pieces on the net.
Writing, as we often do, about some of the overinflated egos of the fashion/entertainment businesses, we're accustomed to the histrionics that invariably ensue when you make critical comments about - or simply just report the words and actions of - public figures who believe they are immune from scrutiny. But it's not every day that a political leader bites over a fashion story, so we were amused to see Malaysian prime minister Najib Razak comment on Twitter in February that the Close encounters post was "a wildly exaggerated story deliberately fabricated to affect people's perception of their leaders". Since deleted by Najib, but preserved for posterity in this screen cap:
Here are the Top 10 stories on Frockwriter that grabbed your attention over the past 12 months. Nearly all of these stories were subsequently picked up by large media outlets. I've included a few notable mentions.
I look forward to your company in 2013.
Frockwriter's annual advance schedule of MBFWA, which pieced together the upcoming week of runway shows and also mentioned that this year's L'Oréal Melbourne Fashion Festival looked to be elbowing in on MBFWA's territory. The Melbourne festival, a consumer event that presents in-season merchandise and which is headed up by a former IMG Fashion Asia Pacific executive Graeme Lewsey, embraced several wholesale events in 2012: The Wearer's Right streetwear showcase and Alex Perry's Spring/Summer 2012/2013 show. Perry chose to unveil his collection in Melbourne in March, as opposed to Sydney in May, citing timing problems with MBFWA. Two months later, IMG Fashion managed to ruffle a few LMFF feathers when the company announced a few pivotal changes of its own for 2013: MBFWA is beefing up its own offer to team up with the Premiere trade show in 2013, at a much earlier date than usual. Eventually confirmed for April 8-12.
In the leadup to New Zealand Fashion Week, this profile of new Kiwi model Holly Rose Emery attracted a lot of interest. Prior to being signed to Auckland's Red Eleven agency in May, Emery had lost 36 kilos, arriving within the officially healthy weight range for a 16 year-old girl. That didn't stop her school from asking her parents if she had an eating disorder. Emery's parents asked, why were there no questions when their daughter weighed nearly 100 kilos?
Frockwriter
has charted Andrej Pejic's career from the get go and this year was no exception, with numerous interesting developments. Of all the 2012 posts, this report about French director Florence Dewavrin's interest in Pejic for her mooted upcoming feature Séraphina generated extra buzz, with numerous international pickups from, among others, vogue.co.uk, Vogue China, New York Magazine's The Cut, Perez Hilton, Elle, Fashionista, The Huffington Post, Grazia Australia and The Herald Sun. (Not as much buzz, however, as this 2010 post about Pejic's earliest fashion campaigns, which attracted more hits than both KL stories combined in 2012 and has clocked over 200,000 hits in two years).
Indigenous Australian lawyer Megan Davis aroused quite some interest when she raised questions over the mysterious origins of the Aboriginal artwork used in Rodarte's Australian Outback-themed Fall/Winter 2012/2013 collection at New York Fashion Week. Having previously told reporters that inspiration for the collection "came out of nowhere", Rodarte designers Kate and Laura Mulleavy ignored repeated requests for further information from Frockwriter - only finally confirming they had in fact licensed the prints from indigenous Australian artists after the story gathered momentum in the US and UK media at numerous outlets, including The Daily Mail and The Washington Post.
Australian stylist and Vogue Australia senior fashion director Christine Centenera is a global street style icon, so no surprise that this quick chat Frockwriter recorded with her at July's International Woolmark Prize party in Sydney was popular.
Proving that a local story with no international pickup can still generate interest, this tribute to Vogue Australia editor Kirstie Clements, after her unceremonious axing by News Limited, attracted over 4,000 hits, after the post was shared liberally on Twitter and Facebook.
Miranda Kerr is no stranger to nude photoshoots, but this low-profile portfolio of images shot by French photographer Laurent Darmon several years ago - apparently originally for Italian
Grazia
- suddenly went viral in August. Darmon declined requests for comment and
has now made the "celebrity" section of his website password-protected
.
The first instalment of Frockwriter's Carl Kapp/Rosmah Mansor story, which attracted interest from The Sydney Morning Herald and Malaysia's independent media. Frockwriter was the first to report Kapp's claims that Rosmah had spent close to AUD 100,000 on his clothing, while seeing in the New Year in a luxury penthouse at Sydney's The Star casino.
The second instalment of the Carl Kapp/Rosmah Mansor story, following various denials from KL, a followup in
The Sydney Morning Herald and
a press release issued by Kapp's publicist Little Hero, stating that the clothes were never intended for the personal use of Rosmah. For the purposes of clarity, we published the two original emails from Little Hero which were sent to drum up publicity for the agency's client - and which explicitly stated that the clothes had been ordered by and specifically fitted for Rosmah - and provided a point-by-point rebuttal of the counter KL claims. The story blew up even further in the Malaysian media.
On the first anniversary of Kapp's close encounter with KL, we thought we would leave you with the following.
Kapp has since parted ways with Little Hero and is now represented by another Sydney publicist, MCMPR.
We love this shot of a printout of the Close encounters post being presented by Malaysian anti-corruption lobby group Jingga 13 to the Malaysian Anti-Corruption Commission in February.
Oh, and according to rock solid sources close to Kapp, Rosmah paid for her order upfront in cash.
Happy New Year!
photo gallery:
1. rose smith backstage at carl kapp's SS1112 show - frock writer
2. miranda kerr backstage at the david jones AW12 show - frockwriter
3. andrej pejic - damon baker via models.com
4. kirstie clements - lisa maree williams, getty via zimbio.com
5. christine centenera at the international woolmark prize, sydney, july 2012 - frockwriter
6. holly rose emery - will bailey
7. rodarte FW1213 - getty via daylife.com