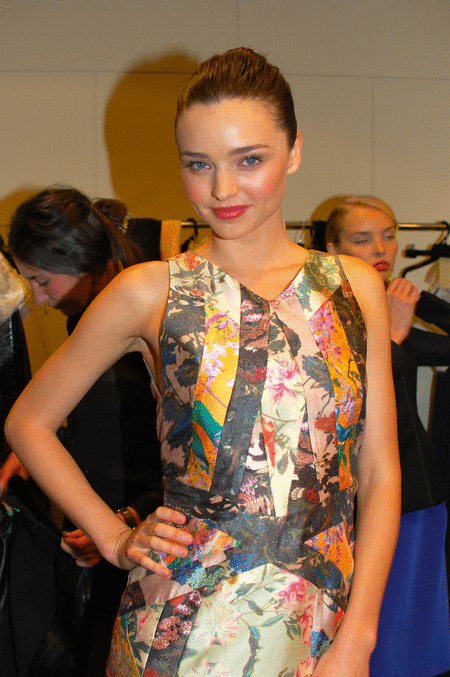 backstage at david jones AW12 (kerr) and AW11
Back in June, frockwriter first reported that IMG Models was about to open up shop in Sydney with the new agency due to be headed up by Danielle Ragenard, the former general manager of high profile Sydney modelling agency Chic Management. We also predicted that Chic Management star Miranda Kerr would be IMG's first client – and that others may follow her. Following a report today that Kerr has now left Chic Management, IMG Australia – the official name of the newest division of the world's biggest modelling agency – has confirmed to frockwriter that Kerr joined the agency a week ago. And Kerr is not the only name on the books.
In a double blow to Chic Management, we can reveal that another Chic star, Nicole Trunfio, has also defected to IMG Australia.
The moves are so new, Kerr's and Trunfio's pages still remain on the Chic Management website – just totally empty.
As for the speculation about IMG potentially renegotiating Kerr's lucrative contract with David Jones which is due to expire within the next six months, no news there. Kerr's commitments to David Jones remain "unchanged" for the moment, reports IMG Australia and Kerr is due to touch down in Sydney for next month's Spring/Summer 2012 showcase as anticipated.
The news that IMG Australia is kicking off with not one, but two, big local modelling names, is interesting.
Trunfio does not have the same profile as Kerr, who is one of the world's highest-paid models and most-photographed celebrities. But the two-time Vogue Australia cover girl, erstwhile European runway star and former face of Guess Jeans is, nevertheless, a name - a big enough name to step in for Kerr for two consecutive David Jones fashion season launches while Kerr was on her honeymoon and maternity leave.
Trunfio, who has been repped by IMG in New York for some time, also has television experience - in fact she owes her career to reality tv, having won Australia's Search For A Supermodel series in 2002, going on to place third in Ford's Supermodel of the World competition in the same year. Then in 2009, she was cast as a model mentor in the US series Make Me a Supermodel.
We understand there may be some Australian job news regarding Trunfio in the not-too-distant future. With the currently-on-hiatus Australia's Next Top Model series looking for a host, following the defection of Sarah Murdoch, could Trunfio be in the running? Awkward, we grant you, given that Chic Management is the model agency currently affiliated with the Australian show.